Second Harvest Food Bank of North Central Ohio receives $1,300 donation from WCF.
24-April, 2013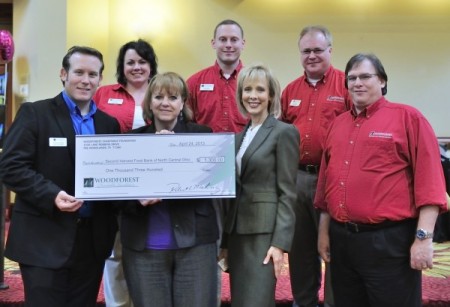 ---
Second Harvest Food Bank of North Central Ohio
Lorain, OH – On a continual basis Woodforest National Bank employees perform a multitude of fundraising events benefitting the Woodforest Charitable Foundation. Both Woodforest National Bank and Woodforest Charitable Foundation are committed to making a positive impact in the communities in which Woodforest serves. This partnership benefits the community and organizations such as Second Harvest Food Bank of Northern Central Ohio, which recently received a $1,300 donation, from the Woodforest Charitable Foundation.

Second Harvest Food Bank of North Central Ohio was founded in 1982, today they serve four counties and partner with 104 agencies to end hunger in their community. Second Harvest supports numerous feeding programs including, soup kitchens, shelters, food pantries, mobile pantries, child nutrition, and farmers markets.
Each school week, volunteers distribute 1500 backpakcs, to Boys and Girls Clubs and schools in their community. The backpacks are filled with nutritious, child-friendly, non-perishable and easy to prepare food for children at times when other resources may not be available.
Here is Marissa's story on how she has benefited from the Backpack Program:
Marissa has always been a bright student and is both excited and nervous about the start of the new school year. She will be entering the fourth grade at her school in Elyria. Like many of her classmates, she is wondering who her teacher will be and what her classes will be like. Unlike some of her classmates, though, Marissa is happy, even relieved, to return to the routine of another basic task – eating meals. Marissa lives with her two aunts and her grandmother. Her grandmother is retired and her aunts each struggle with keeping employment. She says, "Sometimes we don't have enough food in the house for all of us, so I share the food in my back pack with them, too." "I like writing and thinking about stories," Marissa shares. Her teachers have encouraged her and given her high praise for her work. She hopes one day to be able to write a book. "When I have enough to eat, I feel good and can think about what I'm supposed to do in class," she says.
Studies show that lack of nourishment and achievement are directly related. Marissa and the children who struggle with that in her school every day know what that is like. What a difference a full belly makes to these children during the week as well as on weekends.

For more information on the Second Harvest Food Bank of North Central Ohio, please call 440-960-2265 or visit www.secondharvestfoodbank.org.

Woodforest Charitable Foundation
The Woodforest Charitable Foundation was created by Woodforest National Bank in 2005 as a direct result of its desire to support and invest in the communities in which it serves. The Foundation is committed to assisting those in need, enriching lives and communities through dedicated leadership and faithful administration by providing funding to qualifying 501(c)(3) charities. For additional information regarding the Woodforest Charitable Foundation, call (832) 375-CARE (2273) or visit the foundation's website at www.woodforestcharitablefoundation.org.
Woodforest National Bank
Celebrating 32 years of service and ranked among the top earning banks in the United States, the Woodforest family of banks currently has assets of approximately $3.7 billion and services more than 837,000 customers with branches in excess of 760 throughout seventeen states: Texas, Alabama, Florida, Georgia, Illinois, Indiana, Kentucky, Louisiana, Maryland, Mississippi, New York, North Carolina, Ohio, Pennsylvania, South Carolina, Virginia and West Virginia. For information about Woodforest National Bank, please call 832-375-2000 or visit the bank's website at www.woodforest.com.