Second Harvest of Lehigh Valley and Northeast Pennsylvania receives $1,750 donation from Woodforest Charitable Foundation.
21-May, 2013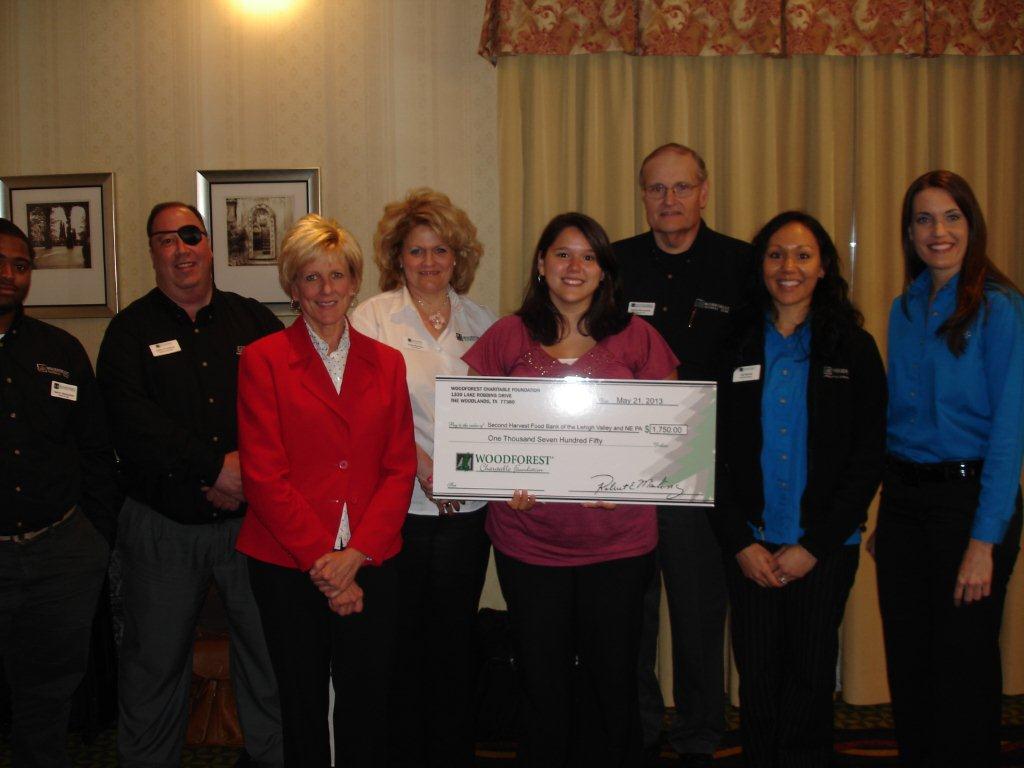 ---
Second Harvest Food Bank of the Lehigh Valley and Northwest Pennsylvania
Allentown, PA – On a continual basis Woodforest National Bank employees perform a multitude of fundraising events benefitting the Woodforest Charitable Foundation. Both Woodforest National Bank and Woodforest Charitable Foundation are committed to making a positive impact in the communities in which Woodforest serves. This partnership benefits the community and organizations such as Second Harvest Food Bank of the Lehigh Valley and Northwest Pennsylvania which recently received a $1,750 donation from the Woodforest Charitable Foundation.
Second Harvest Food Bank began its mission to end hunger in October of 1982 as the Lehigh Valley Food Bank, a program of the Community Action Committee of the Lehigh Valley, Inc. (CACLV). The Food Bank helps thousands of people who are struggling to put food on the table throughout a six-county service area. Last year, Second Harvest distributed 6.4 million pounds of food to our network of 200 member agencies, serving over 69,000 people each month. These agencies include emergency pantries, soup kitchens, shelters, and child care, rehabilitation and senior citizen centers. The Food Bank also provides educational materials to member agencies and the community about local hunger, nutrition, and food accessibility issues and advocates for improvements in and greater accessibility to programs which affect low-income people.
Second Harvest Food Bank administers a number of programs to further our mission of aiding those individuals at-risk for hunger in our six-county service area. Backpack Buddies is a kid-friendly supplemental nutrition program administered by the Second Harvest member agencies that have after-school programs. Staff members at each of the locations identify children who are currently enrolled in their programs and are in need of food assistance. These low-income children eat their meals at school through government subsidized breakfast and lunch programs. For them, weekends and holidays can mean going hungry. Even moderate malnutrition can have long-lasting effects on children's growth and ability to learn. Currently, Second Harvest is providing backpacks for 300 children at nine locations in Allentown, Bethlehem, and Easton school districts.
"Thanks to the support of the donors like you, many low-income parents need not worry. Your generosity allows us to accept offered grocery product from all over our region and make it available to our network of more than 200 member agencies which in turn provides that crucial food to the families in need in our neighborhoods. Together, we can make a real difference in the lives of our neighbors," said Ann McManus, Director of Second Harvest Food Bank of Lehigh Valley and Northwest Pennsylvania.
For more information on Woodforest Charitable Foundation's contributions to this organization, please contact this agency directly at (610)434-0875 or visit www.shfblv.org.
Woodforest Charitable Foundation
The Woodforest Charitable Foundation was created by Woodforest National Bank in 2005 as a direct result of its desire to support and invest in the communities in which it serves. The Foundation is committed to assisting those in need, enriching lives and communities through dedicated leadership and faithful administration by providing funding to qualifying 501(c)(3) charities. For additional information regarding the Woodforest Charitable Foundation, call (832) 375-CARE (2273) or visit the foundation's website at www.woodforestcharitablefoundation.org.
Woodforest National Bank
Celebrating 32 years of service and ranked among the top earning banks in the United States, the Woodforest family of banks currently has assets of approximately $3.7 billion and services more than 837,000 customers with branches in excess of 760 throughout seventeen states: Texas, Alabama, Florida, Georgia, Illinois, Indiana, Kentucky, Louisiana, Maryland, Mississippi, New York, North Carolina, Ohio, Pennsylvania, South Carolina, Virginia and West Virginia. For information about Woodforest National Bank, please call 832-375-2000 or visit the bank's website at www.woodforest.com.