TOMAGWA given a $5,000 donation from Woodforest Charitable Foundatio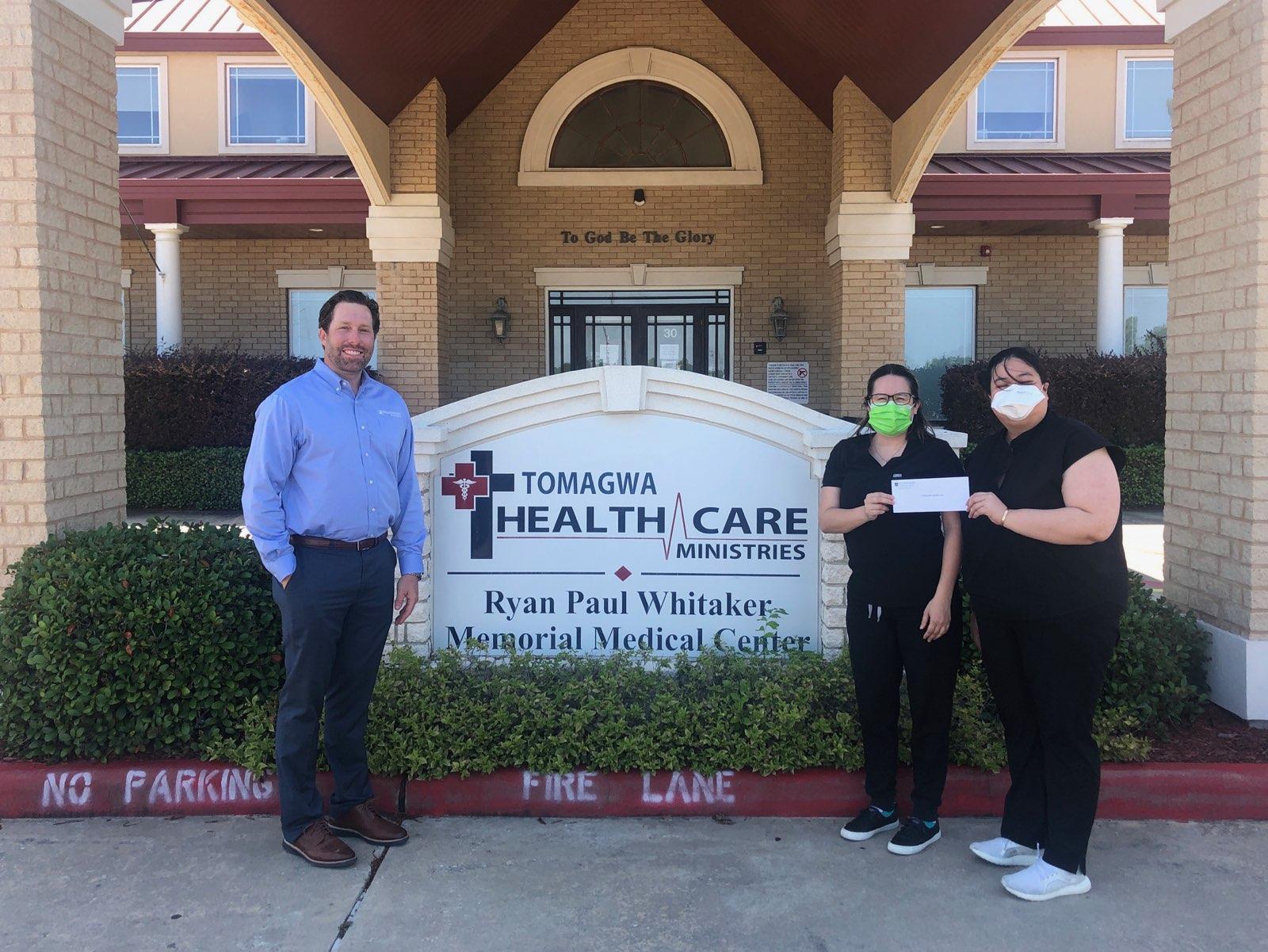 ---
TOMBALL, TX - TOMAGWA HealthCare Ministries was recently presented with a $5,000 donation from Woodforest Charitable Foundation.
TOMAGWA, which represents "Tomball, Magnolia, & Waller," provides assistance to low-income, uninsured families, who need health care and reside in southwest Montgomery, southeast Waller and northwest Harris Counties. It is a nominal-fee, comprehensive family practice clinic that provides medical services regardless of race, creed, ethnicity, religion affiliation or the ability to pay.
TOMAGWA HealthCare Ministries was founded 20 years ago from the concern of local residents who witnessed a man die in Magnolia from an infection and a little girl in Tomball who lost her hearing due to recurring ear infections. These people did not seek medical treatment due to lack of medical insurance and inadequate finances to pay for services. For more information about TOMAGWA HealthCare Ministries visit www.tomagwa.org.
"We are so grateful for Woodforest Charitable Foundation's continuous support," said Judy Deyo, Executive Director of TOMAGWA HealthCare Ministries. "TOMAGWA has seen an increase in new patients by 272% in the past year alone. Woodforest's monetary contributions and volunteer services are tremendously important to continue providing quality medical care to our neighbors."
"TOMAGWA is committed to providing healthcare to the underserved citizens in our community," stated Kim Marling, Executive Director & Vice President of Woodforest Charitable Foundation. "In addition to the Foundation's monetary support, Woodforest employees contribute many volunteer hours to the clinic. Woodforest Charitable Foundation and Woodforest National Bank are pleased support this outstanding organization."
The Woodforest Charitable Foundation was created by Woodforest National Bank (WNB) in 2005 as a direct result of its desire to support and invest in the communities in which it serves. The Foundation is creating a legacy of commitment to those in need, enriching lives and communities through dedicated leadership and faithful administration by providing funding to qualifying 501(c)(3) charities.
For additional information regarding The Woodforest Charitable Foundation, call (832) 375-CARE (2273) or visit the foundation's website at www.woodforestfoundation.org.