Woodforest Charitable Foundation donates $660 to West Texas Food Bank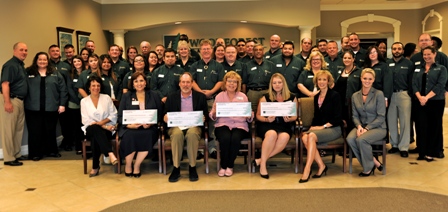 ---
EL PASO, TX – West Texas Food Bank receives a $660 check in support of their Kids Café and Food 2 Kids Programs.
Kids Café provides nutritious evening meals at after-school programs to children who participate in their school's free or reduced-price lunch programs, but may otherwise not receive a third meal at home. The Food Bank currently has three Kids Café sites and prepares over 66,000 meals a year.
The Food 2 Kids program supplies participating schools with a nutritious, kid-friendly, self-serve food sack designed to fit in the backpack of a child deemed chronically hungry by their teacher. The Program is designed to meet the needs of hungry children at times when other resources are not available, such as weekends and school vacations. In the 2009-2010 school year, the West Texas Food Bank provided almost 50,000 backpacks to underprivileged children.
"Thank you for your gift for the Kids Café and Backpack for Kids programs," said Augie Fernandez, Executive Director of West Texas Food Bank. "The West Texas Food Bank helps decrease hunger and increase food security in West Texas. Because of Woodforest's generosity, the Food Bank will continue to provide vital services to children at risk of hunger."
For more information about West Texas Food Bank, please call (915) 595-1060 or visit www.wtxfoodbank.org.
The Woodforest Charitable Foundation was created by Woodforest National Bank in 2005 as a direct result of its desire to support and invest in the communities in which it serves. The Foundation is creating a legacy of commitment to those in need, enriching lives and communities through dedicated leadership and faithful administration by providing funding to qualifying 501(c)(3) charities. For additional information regarding The Woodforest Charitable Foundation, call (832) 375-CARE (2273) or visit the Foundation's website at www.woodforestcharitablefoundation.org.
Celebrating 30 years of service and ranked among the top earning banks in the United States, the Woodforest family of banks currently has assets of approximately $3.2 billion and services more than 850,000 customers with branches in excess of 750 throughout seventeen states: Texas, Alabama, Florida, Georgia, Illinois, Indiana, Kentucky, Louisiana, Maryland, Mississippi, New York, North Carolina, Ohio, Pennsylvania, South Carolina, Virginia and West Virginia. For information about Woodforest National Bank, please call 832-375-2000 or visit the bank's website at www.woodforest.com.