Woodforest Charitable Foundation and Woodforest National Bank Makes First Donation to Hunger Action Month!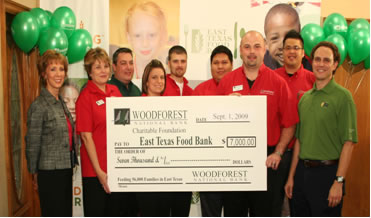 ---
Woodforest Charitable Foundation and Woodforest National Bank made the first gift to the East Texas Food Bank for Hunger Action Month at 12:01 am on September 1, 2009. Woodforest Charitable Foundation donated $7,000 which will help provide over 56,000 meals for hungry children, working families and seniors who are struggling to put food on the table.
"In this economic environment more and more families are having to make a choice between feeding their family and providing other essential necessities," said Kim Marling, vice president of Woodforest Charitable Foundation. "On behalf of the Woodforest Charitable Foundation and Woodforest National Bank, we are grateful to have the opportunity to provide 56,000 meals through our donation. We challenge others to join us in our efforts to end hunger in our communities."
"Hunger Action Month is a time to raise awareness of hunger and solutions to it. Thanks to friends of the East Texas Food Bank like Woodforest Charitable Foundation and Woodforest National Bank, we are able to pursue our mission of reducing hunger in East Texas," said Robert L. Bush, executive director of East Texas Food Bank. "Each dollar donated to the East Texas Food Bank helps provide eight meals for someone in our community living at risk of hunger."
The East Texas Food Bank in conjunction with Feeding America, announces the second annual Hunger Action Month, a nationwide call-to-action effort to mobilize people everywhere to get involved with ending hunger in America. One in eight Americans struggles with hunger. That's why East Texas Food Bank and Feeding America are asking everyone to take action during Hunger Action Month and Give a Little Feed a Lot.
Throughout September, join other East Texans by giving a little food, giving a little money, giving a little time to feed the hungry in our community or take the SNAP Challenge. This challenge allows you to experience and understand what thousands of low-income East Texans are facing everyday.
To read the entire article and learn how you can help fight hunger during Hunger Action Month, visit the East Texas Food Bank Web site at www.easttexasfoodbank.org.
The Woodforest Charitable Foundation was created by Woodforest National Bank in 2005 as a direct result of its desire to support and invest in the communities in which it serves. The Foundation is creating a legacy of commitment to those in need, enriching lives and communities through dedicated leadership and faithful administration by providing funding to qualifying 501(c)(3) charities.
For additional information regarding the Woodforest Charitable Foundation, call (832) 375-CARE (2273) or visit the foundation's Web site at www.woodforestcharitablefoundation.org.