Woodforest Charitable Foundation donates $4,600 to Blue Ridge Area Food Bank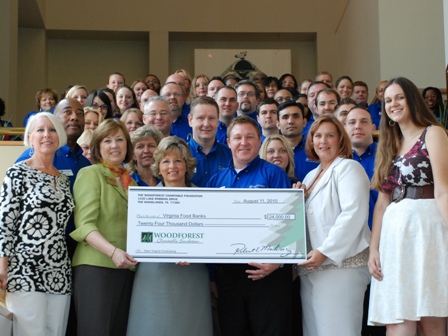 ---
VERONA, VA – Woodforest Charitable Foundation presents Blue Ridge Area Food Bank with a $4,600 donation.
Founded in 1981, Blue Ridge Area Food Bank is the largest organization alleviating hunger in western and central Virginia. Last year, the Food Bank distributed nearly 14 million meals to hungry families. In all, the Food Bank serves 25 counties and nine cities through distribution centers in Charlottesville, Lynchburg, Winchester and Verona.
The Food Bank's mission is to feed the hungry through a network of community organizations in central and western Virginia, and to engage communities in the fight to end hunger locally and nationally. The Food Bank distributes food to hundreds of food pantries, soup kitchens, churches, schools and other nonprofit organizations throughout Virginia.
"Woodforest Charitable Foundation's support will provide hope and encouragement to those who are struggling to make ends meet," expressed Lawrence Zippin, CEO of Blue Ridge Area Food Bank. "Acts of kindness from our donors and hundreds upon hundreds of volunteers sustain more than 90,000 people in the communities we serve each and every month. Thank you for truly making a difference beyond measure."
For more information about Blue Ridge Area Food Bank, please call 540-248-3663 or visit www.brafb.org.
The Woodforest Charitable Foundation was created by Woodforest National Bank in 2005 as a direct result of its desire to support and invest in the communities in which it serves. The Foundation is creating a legacy of commitment to those in need, enriching lives and communities through dedicated leadership and faithful administration by providing funding to qualifying 501(c)(3) charities. For additional information regarding The Woodforest Charitable Foundation, call 832-375-CARE (2273) or visit the Foundation's website at www.woodforestcharitablefoundation.org.
Celebrating 30 years of service and ranked among the top earning banks in the United States, the Woodforest family of banks currently has assets of approximately $3.2 billion and services more than 850,000 customers with branches in excess of 750 throughout seventeen states: Texas, Alabama, Florida, Georgia, Illinois, Indiana, Kentucky, Louisiana, Maryland, Mississippi, New York, North Carolina, Ohio, Pennsylvania, South Carolina, Virginia and West Virginia. For information about Woodforest National Bank, please call 832-375-2000 or visit the bank's website at www.woodforest.com.