Woodforest Charitable Foundation Donates $1,000 to The Foundry Rescue Mission & Recovery Center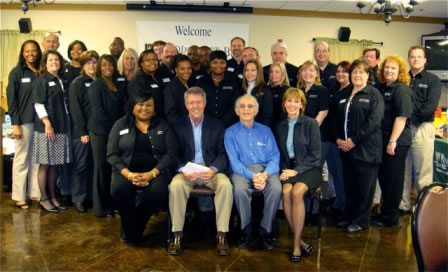 ---
BESSEMER, Alabama (November, 2009) – Woodforest Charitable Foundation recently donated $1000 to The Foundry Rescue Mission and Recovery Center.
As scrap metal comes to a foundry, men and women come through the doors of The Foundry Rescue Mission and Recovery Center seemingly hopeless and useless. Through the process of melting, molding, pouring, cleansing and grinding, their lives are reshaped to become new.
Since 1971, The Foundry Rescue Mission and Recovery Center has been dedicated to restoring hope and rebuilding the lives of addicts, ex-inmates and the homeless through a Christ-centered recovery program. Many men and women who turn to The Foundry have spent years, and at times even decades, using alcohol and drugs. The 12 to 18 month residential recovery program is offered to individuals throughout Alabama and beyond. During the program, these broken individuals can regain basic necessities, restore their hope and self-esteem, and achieve a real, lasting change in their lives. "Through the Foundry I was able to attend the recovery program and eventually reunite with my wife, children and family," said a resident of The Foundry.
For more information, please call (205) 424-4679 or visit The Foundry Rescue Mission and Recovery Center website at www.thefoundryonline.org.
The Woodforest Charitable Foundation was created by Woodforest National Bank in 2005 as a direct result of its desire to support and invest in the communities in which it serves. The Foundation is creating a legacy of commitment to those in need, enriching lives and communities through dedicated leadership and faithful administration by providing funding to qualifying 501(c)(3) charities. For additional information regarding The Woodforest Charitable Foundation, call (832) 375-CARE (2273) or visit the foundation's website at www.woodforestcharitablefoundation.org.
Celebrating 30 years of service and ranked among the top earning banks in the United States, the Woodforest family of banks currently has assets of approximately $3.2 billion and services more than 770,000 customers with branches in excess of 700 throughout fifteen states: Texas, Alabama, Illinois, Indiana, Kentucky, Louisiana, Maryland, Mississippi, New York, North Carolina, Ohio, Pennsylvania, South Carolina, Virginia and West Virginia. For information about Woodforest National Bank, please call 832-375-2000 or visit the bank's website at www.woodforest.com.