Woodforest Charitable Foundation Donates $3,150 to The King's Ranch and Hannah Homes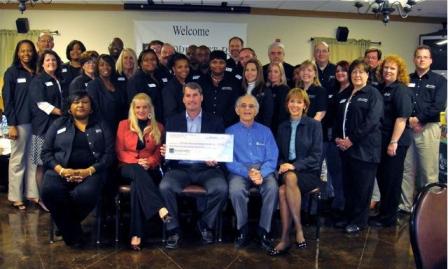 ---
Chelsea, Alabama - Woodforest Charitable Foundation has recently made a $3,150 contribution to The King's Ranch and Hannah Homes located in Chelsea, Alabama.
For over 30 years, The King's Ranch and Hannah Homes has become home to hundreds of youth, women, and children seeking refuge, hope, and help from difficult circumstances.
The King's Ranch is dedicated to providing loving homes in a Christian environment for boys and girls who have been victims of abuse, neglect, and abandonment. Through their Family Home Program, they offer unconditional love, hope, structure, and the opportunity to develop a solid spiritual foundation. The King's Ranch also teaches pro-social skills, strong work ethic, and values that will enhance healthy relationships, competency, and confidence to face their future.
Hannah Homes are residential facilities where women and children fleeing domestic violence can find hope and regain their independence. Hannah Homes offer services such as, domestic violence counseling, parenting skills, substance abuse classes, education, employment, housing and childcare. "We are so grateful for your recent gift of $3,150.00," said Lew Burdette, President of The King's Ranch and Hannah Homes. "With your help we are able to continue helping youth, moms and children heal from their devastating past as well as providing them with the necessary skills and tools to make the next step toward independence."
"The King's Ranch and Hannah Homes is a wonderful organization that is dedicated to providing refuge for youth, women and children. We are pleased to provide funding to an organization that offers help, hope and opportunity to those caught in unfortunate circumstances," noted Kim Marling, Vice President of Woodforest Charitable Foundation.
For more information, please call (205) 678-8331 or visit The King's Ranch and Hannah Homes website at www.kingsranch.org.
The Woodforest Charitable Foundation was created by Woodforest National Bank in 2005 as a direct result of its desire to support and invest in the communities in which it serves. The Foundation is creating a legacy of commitment to those in need, enriching lives and communities through dedicated leadership and faithful administration by providing funding to qualifying 501(c)(3) charities. For additional information regarding The Woodforest Charitable Foundation, call 832-375-CARE (2273) or visit the foundation's website at www.woodforestcharitablefoundation.org.

Celebrating 30 years of service and ranked among the top earning banks in the United States, the Woodforest family of banks currently has assets of approximately $3.2 billion and services more than 770,000 customers with branches in excess of 700 throughout fifteen states: Texas, Alabama, Illinois, Indiana, Kentucky, Louisiana, Maryland, Mississippi, New York, North Carolina, Ohio, Pennsylvania, South Carolina, Virginia and West Virginia. For information about Woodforest National Bank, please call 832-375-2000 or visit the bank's website at www.woodforest.com.