Woodforest Charitable Foundation donates $1,000 to Huntington Area Food Bank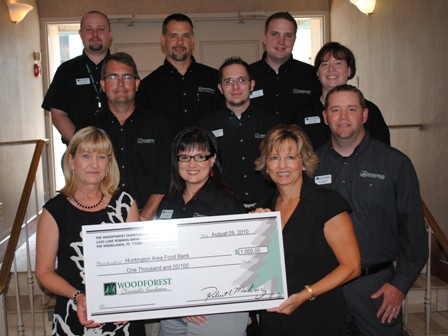 ---
HUNTINGTON, WV – Woodforest Charitable Foundation recently made a $1,000 donation in support of Huntington Area Food Bank's BackPack for Buddies Program.
Hunger is a significant problem year-round in every community across the United States, from cities to suburbs to rural small towns. Children are the most vulnerable to the problem of hunger, because their developing bodies need nutrition and they lack the resources to feed themselves. The Huntington Area Food Bank confronts the issue of childhood hunger through its BackPack for Buddies Program. The BackPack for Buddies Program helps low-income students fight hunger at home during weekends and long school holidays. The program provides backpacks filled with food that is child-friendly, shelf-stable and easily consumed.
"The Huntington Area Food Bank relies heavily on food and monetary donations to distribute nutritional food items to over 250 member agencies," said Brooke Ash, Assistant Director of Huntington Area Food Bank. "Because of Woodforest's support we can continue meeting our mission of feeding over 91,000 hungry people every month."
Since 1983 The Huntington Area Food Bank has provided product to food pantries, soup kitchens, emergency shelters, senior citizen programs, youth programs, and residential programs that directly serve the needs of hungry people. For more information about Huntington Area Food Bank, please call 304-523-6029 or visit www.hafb.org.
The Woodforest Charitable Foundation was created by Woodforest National Bank in 2005 as a direct result of its desire to support and invest in the communities in which it serves. The Foundation is creating a legacy of commitment to those in need, enriching lives and communities through dedicated leadership and faithful administration by providing funding to qualifying 501(c)(3) charities. For additional information regarding The Woodforest Charitable Foundation, call 832-375-CARE (2273) or visit the Foundation's website at www.woodforestcharitablefoundation.org.
Celebrating 30 years of service and ranked among the top earning banks in the United States, the Woodforest family of banks currently has assets of approximately $3.2 billion and services more than 850,000 customers with branches in excess of 750 throughout seventeen states: Texas, Alabama, Florida, Georgia, Illinois, Indiana, Kentucky, Louisiana, Maryland, Mississippi, New York, North Carolina, Ohio, Pennsylvania, South Carolina, Virginia and West Virginia. For information about Woodforest National Bank, please call 832-375-2000 or visit the bank's website at www.woodforest.com.